A Gathering of Tales is an annual membership where you, dear reader, get short stories emailed to you, as well as access to a super secret password protected page that archives all the short stories you've received.
These short stories are written by award-winning, bestselling authors Kimberly Kinrade and/or Dmytry Karpov, a husband/wife writing team with over 13 books to their name collectively, and counting.
For one flat rate, you not only get 4 short stories immediately, but also a free copy of Kimberly Kinrade's heartbreaking collection, Bits of You & Pieces of Me.
In addition, as membership numbers grow, you will get more and more stories, until at least 250 members are recruited, at which point you will forever and always (or at least to the end of the subscription term) get 3 new short stories a month.
After you've paid on PayPal, make sure to click on "Return to Daring Books LLC" in the bottom right corner in order to finish subscribing.
EXCLUSIVE GIVEAWAY
All new subscribers who sign up before March 20th will be entered automatically into an exclusive giveaway. One lucky winner will receive a signed paperback copy of THE FORBIDDEN TRILOGY -- Kimberly Kinrade's award-winning upper young adult/new adult paranormal series. If we hit 250 subscribers before then, we'll give away TWO signed copies, so share this with your friends!
Read stories from your favorite genres and series.
Get More Stories!
When A Gathering of Tales has 1 member: You will get 1 additional short story this year
When we get 10 members: You will get 1 new short story quarterly
When we get 50 members: You will get 1 new short story each month
When we get 150 members: You will get 2 short stories each month
When we get 250 members and beyond: You will get three short stories each month, for the duration of the membership
So, of course, the more people you tell about this, and the more who subscribe, the more stories everyone gets, until we max out at 3 per month. That's our limit if we want any hope of also writing books.
Mature Content
Warning. Some short stories will feature sexual content. They will be clearly marked as such. If you do not wish to read these, just delete them.
The stories will be anywhere from 500 to 5,000 words, but will mostly fall in the mid-range. You will get first access to these stories, before they are published anywhere else. They will be in a variety of genres, including romance, fantasy, feel good/heartwarming, mystery/thriller and horror.
When you click on paypal and pay, you will be directed to a top-secret sign up page. At that point, you will have the option of clicking on your preferred genres. ALL subscribers will get ALL stories, but we will do our best to consider what the majority of our readers are interested in reading.
Occasionally, we might even get you involved in the story telling!
There are three membership types. They are basically the same thing. The Patron Member is you saying you love us so much, and think our work is so brilliant, that you feel compelled to donate a few extra bucks to support our insane habit to write away our days. We thank you for this. The Diamond Member is you saying you really, really love us. And as a thank you for your love and contribution, we'll feature you on our official Acknowledgments page.
Both Patron and Diamond members get entered into giveaways, but only Diamond members get extra giveaways.
As a member, you are welcome to forward your new story to a friend to share, but they must not share beyond that unless they, too, wish to become a member. Also, please protect the sanctity of this experience and do not share the passwords or link for the email sign up page. Let's keep it fun for all, okay? Thanks!
Questions? Contact us at AGatheringofTales@KarpovKinrade.com
For fans of Kimberly Kinrade, A Gathering of Tales will include all new stories from the Forbidden and Seduced sagas. Remember, by subscribing to A Gathering of Tales, you will receive this new material before anyone else.
View Our Subscriptions
Choose the right subscription for you and help support the authors
Basic Subscription
Gain access to all available stories
Receive new stories in your email
Get first access to our work
$15
Patron Subscription
Gain access to all available stories
Receive new stories in your email
Get first access to our work
Be entered into giveaways
Show extra support to the authors
$30
Diamond Subscription
Gain access to all available stories
Receive new stories in your email
Get first access to our work
Be entered into EXTRA giveaways
Show enormous support to the authors
Have your name and website listed on our official acknowledgements page
$100
Sign Up
Join A Gathering of Tales
Subscribe Here
After you've paid on PayPal, make sure to click on "Return to Daring Books LLC" in the bottom right corner in order to finish subscribing.

Take Advantage of this Offer!
Receive new short stories in your email
Gain access to all previous short stories
Get a full short story collection, "Bits of You & Pieces of Me," as a bonus
Get first access to our work
Receive more stories as more people subscribe
Read stories from your favorite series
Be entered into giveaways with a Patron or Diamond subscription
Help support the authors
Reviews
See What Others are Saying
Brooke Bumgardner
Kimberly Kinrade never ceases to amaze me. She is able to take any genre and make it her own.
Keith Massey
Kinrade is a first rate writer who draws you in quickly to the world she paints.
L.M. Stull
Kimberly Kinrade is a genius. Simply put. Bits of You & Pieces of Me is a work of literary art.
Erin Maurer
This erotic short story is all kinds of hot.
Sharon Hughes
From the first sentence, I was hooked!
Brick ONeil
Like an intimate conversation with an old friend. Part poetry, part confessional, part writers anthology, Kimberly Kinrade obviously pours her heart and soul into this work.
Erin Maurer
I adored every single inch of text.
Katie John
This was as if Kimberly Kinrade had ripped out her very beautiful and eloquent heart and presented it in front of you. It was a very moving collection of stories and poems; which had a terrible sadness attached to them.
Meet The Authors
Get to know Kimberly and Dmytry
KIMBERLY KINRADE
Award-winning, bestselling author Kimberly Kinrade writes fulfilling fantasy for all ages, including children's fantasy, young adult paranormal, new adult and adult urban fantasy, and romance (both fantasy and contemporary). She was born with ink in her veins and magic in her heart and still believes in magic worlds and happily ever afters.
She runs Daring Books Design & Marketing with her husband, Dmytry Karpov, where they manage a team that helps authors edit, design and market their books.
She lives with her three little girls who think they're ninja princesses with super powers, her two cats who think they're gods (and probably are), her two dogs who think they're human, and her husband, also known as the Sexy Russian Prince, who is her writing partner, soul mate, best friend, and so much more.
Website: http://KimberlyKinrade.com
Amazon Author Page: http://amazon.com/author/kimberlykinrade
Twitter: https://twitter.com/KimberlyKinrade
Facebook: http://facebook.com/KimberlyKinrade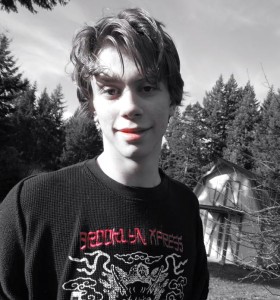 DMYTRY KARPOV
I write fantasy—be it urban, dark or epic.
I heard the siren call of the muses at an early age and penned my first masterpiece when I was twelve-years-old. Okay, masterpiece may be stretching it, but I didn't give up. At the ripe age of sixteen I began an epic fantasy that would someday leave all epic fantasies green with envy. It now sits in my computer, 80,000 words into it, and only one third complete. I might someday finish it.
Fortunately, by the time I entered college, I learned the art of outlining, thus making the process of actually completing a novel much more likely. Words have always held the power to seduce me, which is why it's no surprise that I'm now co-writing the Fallen Trilogy with my wife, Kimberly Kinrade, and also have a dark fantasy and epic fantasy burning a hole in my writer's brain.
I believe writers should never stop learning and studying their craft, and we should always be open to the call of the muse, wherever it leads.
Born in the Ukraine and raised in Canada, I now live with my beautiful wife, where I try to remember my Russian and my wife tries to remember her French and together we try to remember to feed our three daughters, two dogs and two kittens.
Subscribe now and enjoy stories written specifically for you
After you've paid on PayPal, make sure to click on "Return to Daring Books LLC" in the bottom right corner in order to finish subscribing.